March 2022
If you would like to become a member of the Law Dean's Council, you can make your gift online here. If you have questions, contact Bobbi Zaunbrecher at 225-578-8705 or bobbiz@lsu.edu.
DEAN'S COUNCIL SPOTLIGHT
Allison Jones | Class of 1985 | Downer, Jones, Marino & Wihite | Shreveport, La.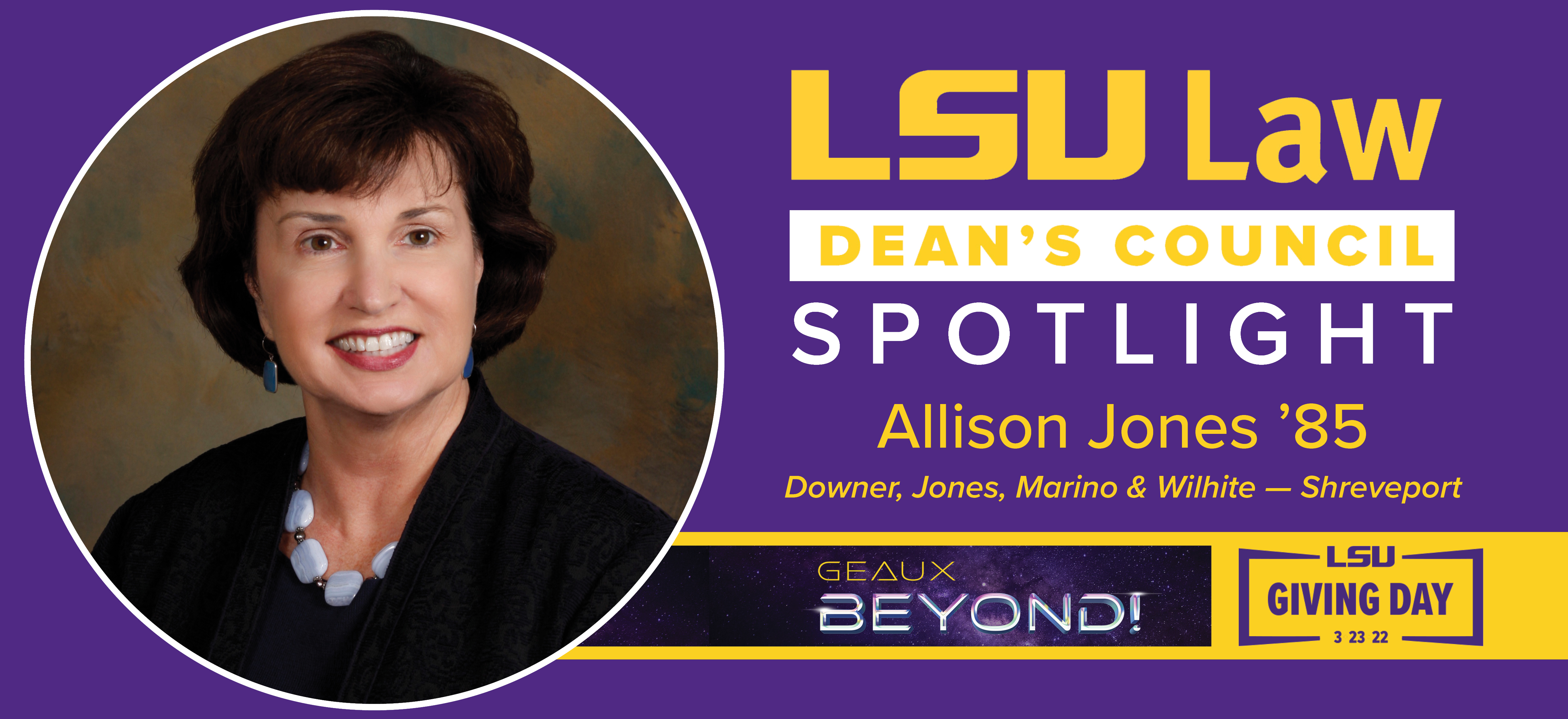 Usually, we would introduce our featured Dean's Council member by asking some questions designed to provide some insight into their personal and professional lives. And we'll get to that. But first we're going to ask our featured member and Dean's Council Chair, Allison Jones ('85), to talk about an upcoming project that our alumni are going to hear a lot about, starting with Giving Day on March 23. So, Allison, please tell us about "Geaux Beyond Three Percent" initiative.
Upon accepting appointment to the Chair of the Law Dean's Council, I learned something very surprising: Only about three percent of the Law Center's living alumni make an annual contribution at the Dean's Council level. We have held pretty steady in terms of the amount of money we raise, thanks to members increasing their annual contributions, but the number of people who give has stagnated. It is my goal to change that fact, and I am going to work hard to achieve that goal.
During Minor Pipes' tenure as chair, he instituted house parties, where hosts invited prospective donors to meet the dean and become Dean's Council members. This peer-to-peer approach was successful, but we put it on hold when the pandemic made such gatherings dangerous. While things are looking up and we will resume house parties in the fall, I want to kick-start recruitment with a virtual peer-to-peer initiative on Giving Day. I am assembling a group of current Dean's Council members who are resolved to bring their fellow alumni into the fold. Each will have a webpage and have accepted the challenge of raising $5,000 or more in new memberships. We're using the space-themed "Mike the Astronaut" who encourages us to "Geaux Beyond"—in our case, beyond three percent!
You're a product of LSU Law in the mid-80s, a time when the Law Center had virtually open admission and extremely high attrition. The process was brutal, even for those of you who successfully completed. What do you say to fellow alums who cite that as a reason to not support LSU Law?
We owe our careers to the education we received at LSU Law. And many of us have built careers that are both satisfactory and rewarding! While there were people who were tougher than we liked, there were many brilliant, supportive and inspirational faculty who helped us understand and develop a passion for the law. I'd ask my fellow alums to be honest about their circumstances upon entering law school and tell me, "Where could you have gone, for the same financial investment, and be where you are today?"
So how will this virtual peer-to-peer thing work?
We've got a great team, and we are adding more every day. Currently, Tim Barfield, Marshall Jones, Jan Hayden, Mike Woods, Ed Walters, Mike Patterson, Frank Neuner, Jim Lambert, Tom Galligan, and Regan Richard are on board. Our team of peer-to-peer champions will each have a webpage. If you are not a current member of the Law Dean's Council, you will be hearing from them, from me, and from our staff support, Bobbi Zaunbrecher, between now and March 23. We'll ask you to go to the web page of your choice and make your Dean's Council gift for 2022.
We won't stop with Giving Day. That's just a kickoff. If you're not a Dean's Council member, we're coming for you!
So, let's talk a little about you. You practice in the field of employment law. We overheard a phone conversation with a very prominent employment lawyer in which you were referred to as "the best in Louisiana." That's high praise, and not undeserved. Your reputation as a passionate and effective advocate is widely known. Tell us about how you discovered your passion and talent for employment law.
Whoever said that was very kind. I would be reluctant to call myself the best at anything. I do wake up every morning committed to trying to give my clients my very best. When I first began practicing law, sexual harassment was not even a recognized cause of action. After Congress amended the Civil Rights Act of 1964 in 1991, I went home one weekend and began studying the changes to the law. After doing that, I promised myself that I would try to expand my legal practice in this area of the law. I tried my first jury trial, which was a gender discrimination and retaliation case under the newly amended law, and I fell in love with this area of law. In fact, sometimes I still fall too much in love with my cases (laughing), and a good defense lawyer teaches me otherwise. If you haven't lost a case, you aren't even trying to practice in this area of the law because it can sometimes be difficult. I'm still learning every day. The beauty of this area of the law is that I get to help people at a time in their life when they need that help. That makes me appreciate the fact that I hold my law license, which I have always described as "a license to do good."
There seems to be a "legal gene" in your family. Tell us about the other lawyers in the Jones-Downer family. And don't worry, it's not braggin' if it's true!
I met my husband, Philip Downer, on the very first day of law school. We were in Professor Lamonica's Civil Procedure class, and I was terrified. Law school is a very intense time in one's life. I formed lifelong friendships while attending law school. Philip and I married one week after graduation, and we currently practice law in the law firm of Downer, Jones, Marino & Wilhite. I guess my younger brother, Matt Jones, ('89) and older sister, Pam Jones ('89) thought that if I could make it through law school, they could too. So, they followed in me, and, of course, they are excellent lawyers. Matt is a partner with Liskow & Lewis and Pam joined our firm, so she and I get to share the joy of practicing together every day. My older sister Marsha Jones Semon (now deceased), followed all of us and was an amazing litigator with a law firm in Birmingham, Alabama.
It does not end there! My children are the product of their parenting. Joshua Downer finished at LSU Law in 2012 and is currently practicing with Holland & Knight in Houston. Stephen Downer finished at LSU Law in 2019 and is currently an Assistant District Attorney in Jefferson Parish. I love it when I hear stories of my siblings and children from other lawyers. Even better, Stephen is marrying an LSU Law graduate, Marianna Knister, class of 2019, in June of this year. Let's just put it this way: We always have interesting Thanksgiving and Christmas table discussions. Don't be surprised if one day my grandchildren enroll at LSU Law! It's a strong gene.
You are an unapologetic football fan. You love your Tigers, you dress in purple and gold, you make most of the home games, you pay close attention to every play, you know the players, and you holler at the officials. Where did that come from and is there a cure?
Yes, you can call me Coach Jones. I go to the games with my family and then I go home and re-watch the game and study film. My family—particularly my brother Matt and my husband Philip—and I rehash the game all week. If it were ever to happen that Coach Kelly looks at me during the game for a play call, I want to be able to say, "put me in coach, I'm ready to play (call)." My father was a huge football fan, and many of my favorite memories are sharing football games with him by my side cheering on our teams. There is a great quote from the television series "Friday Night Lights" that I love. It's from the fictional character of Buddy Garrity who observes, "You can't fake boosterism. It comes from the heart. That's the beauty of it." My love of LSU football comes from my heart.
Is there anything else you'd like us to know about you?
I read voraciously. I love non-fiction mostly, but I have been known to lose myself in a beautifully written novel, too. I like to travel, but that has been severely restricted with the pandemic. I will be so happy when it all returns to normal, and I can hit the roads, skies, and seas again. My politics are passionate, but I never begrudge anyone who holds different view, and I absolutely love the intellectual jousting that occurs when discussing those views.
Thank you so much for your time and your efforts to expand our Dean's Council membership! Let's finish with some Quick Picks. Android or iPhone?
Android.
Beach or woods?
Both, but my real love is the lake life. I love Lake Claiborne.
Garth Brooks or Bruce Springsteen?
Garth Brooks, for sure.
Burger or pizza?
Oh! I have been known to enjoy eating both, but neither are on my current plan to look good at my son, Stephen's, upcoming June wedding. Lately, I am all about brussel sprouts and salads.
Mall or estate sale?
I guess the mall, though really, I have become quite the online shopper during the pandemic.
SUV or Pickup?
There's something women love about a pickup man (laughing). Absolutely, pickup.
Star Wars or Star Trek?
I grew up on Star Trek, so beam me up Scottie. Either way, though, let's take Mike the Astronaut with us and Geaux Beyond expected horizons for LSU Law!