March 2023
If you would like to become a member of the Law Dean's Council, you can make your gift online here. If you have questions, contact Bobbi Zaunbrecher at 225-578-8705 or bobbiz@lsu.edu.
DEAN'S COUNCIL SPOTLIGHT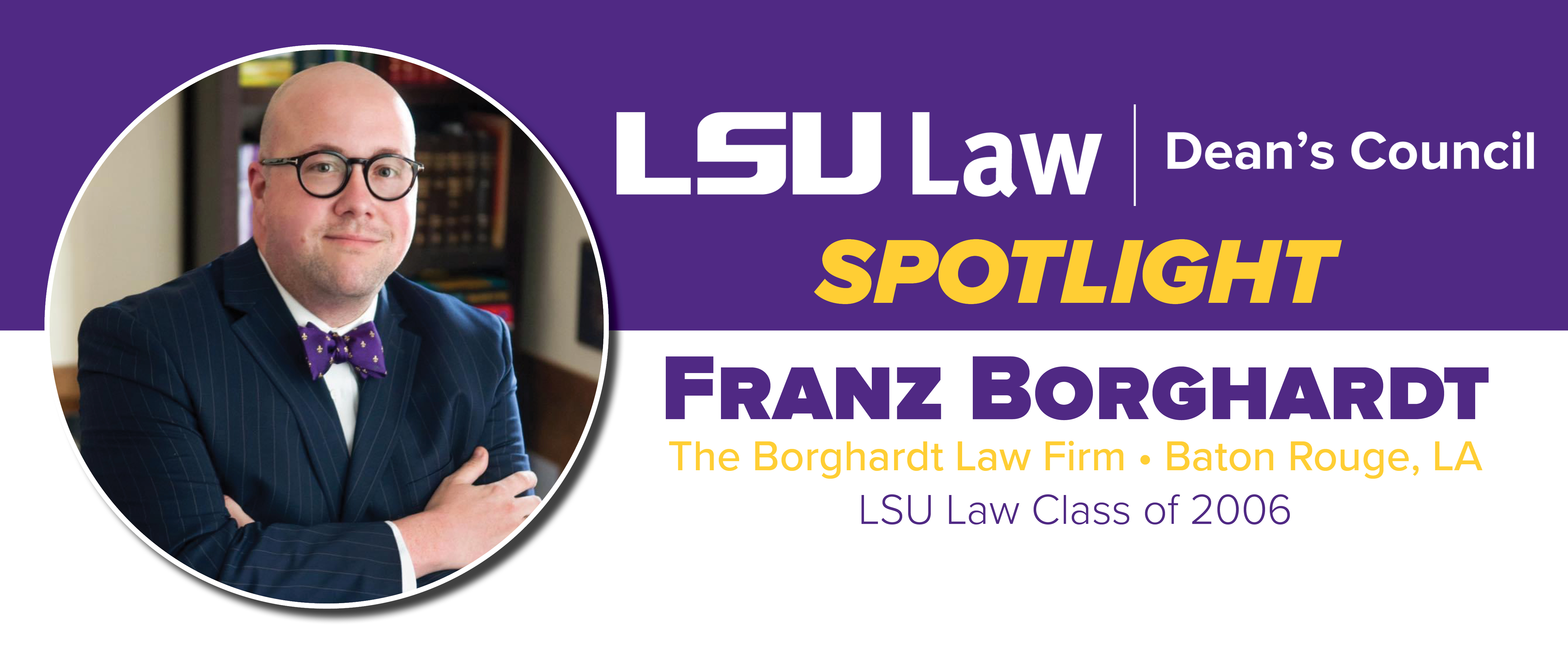 Franz Borghardt | Class of 2006 | The Borghardt Law Firm | Baton Rouge, La.
You launched The Borghardt Law Firm in 2017, after previously working as a felony assistant in the East Baton Rouge Office of Public Defender and the East Baton Rouge District Attorney's Office, and as an attorney for the Steven J. Moore law firm. What ultimately led you to launch your own firm, and can you tell us about what kinds of cases you specialize in? 
I have always been fortunate enough to have fantastic mentors, all of whom—including Steven Moore—advised me that it was the right time to go out on my own. Life is all about timing. My practice focuses on general criminal law, with an emphasis on federal and state litigation. I can handle the smaller basic cases, but generally I'm known as a trial attorney who tries cases. I would say, private practice has mostly brought me into federal court, but I love to dynamics of state court.
Your firm's tagline is "Lawyering by Example." How does that reflect the values of your firm and what does that mean for the clients you represent?
I love our profession and I am very protective of it. I believe that it's my job to set an example for my profession in how I represent my clients, and how I perform in court and in the community. I want to be an example. I want to raise our bar. For my clients, it means they get my best.
For attorneys who may thinking about launching their own firm, what is one piece of advice that you would give them?
Get involved with your community. So much of your practice is based on developing a network of clients who see you in and outside of the courtroom. It is the best advertising!
You and attorney Richard Sprinkle host the "Legally Unfiltered" podcast, which provides listeners with "unfiltered discussion of national and local news and events, and how they affect you from a legal standpoint." Why did you decide to start a podcast, how long have you been at it, and what have the benefits been for you as an attorney and the owner of your firm?
The podcast and radio show had its inception in conversations that Richard and I would have about local and national cases. Richard Sprinkle, who is a brilliant attorney, had a background in radio. We just did it for fun and it sort of became a thing. We then were asked to submit the episodes to a local radio station. We have done it for a few years, although it isn't as regular as we would like it to be, as we both have busy practices and schedules. The benefits to doing a podcast or radio show is that you get to expand your network and also do some legal "flexing" of intellectual muscles. Armchair quarterbacking is always fun, particularly because they aren't your cases!
You are also a guest legal analyst on Court TV. How did that come about, what kinds of cases do you enjoy commenting on the most, and do you hope to do more legal analysis work in the future?
I had been doing local legal commentary on local news channels and radio, and I was asked to submit some video samples to Court TV. From there I was given a "try out." It just blossomed from there. I am on generally once a week and it is a lot of fun. Most of the cases are criminal in nature, with a few high-profile civil trials sprinkled in. The Depp-Heard trial was an example of a wild civil case that I did commentary on. I am always open to future opportunities do more legal analysis and commentary, but for now, I am just enjoying the fun that comes with getting to be on national TV on a weekly basis.
The connection between your family and LSU Law goes back generations. How did that influence your decision to practice law, and do you hope your son follows in your footsteps?
My grandparents, both of whom were graduates from the Law Center, have played a huge role in my life, both in my education and in instilling the best parts of our profession. My Grandmother, Frances Landry ('34) was one of the first practicing woman attorneys in Louisiana. They certainly have provided me with a standard or benchmark to what I would like to be one day. I would love if my son, Fisher, would follow in my footsteps. His mother, who is also an amazing attorney, would also be very proud of him as well.
You also serve as an adjunct professor of Criminal Law at LSU Law. Did you have any favorite professors from your time as a student at the Paul M. Hebert Law Center that influenced your teaching style?   
Absolutely! The late Frank Maraist and Cheney Joseph were my favorite law school professors! If I could be a fraction of what those two meant to my law school experience, I would be very pleased.
As a 2006 graduate, you and your classmates had a markedly different experience in law school as compared to students who attended LSU Law during the high attrition years of decades past. How do you reflect upon your law school experience and do you find today's students to be any different than they were when you were at LSU Law?
I believe that each era is unique, but the experience of law school remains the same. There is anxiety, fear, optimism, and a desire to prove oneself. There is also this feeling like you are getting a backstage pass to an inner society of professionals who help shape the legal dynamics of our society. It was an amazing and stressful experience.
Today's students have some technological advantages that my class were just starting to enjoy in our education. Yet, the competitive spirit seems as alive now as it was in 2006 and likely before.
You are helping lead our alumni outreach efforts during LSU Giving Day on March 29. What are you hoping to accomplish for your alma mater on Giving Day and how can your fellow LSU Law alumni get involved and support the Law Center?  
I would like for all LSU Law alumni to realize the "why" of support. How each dollar benefits the institution and improves just not the experience for students but shapes our legal profession. Giving Day is about financial support, but it is also about ensuring the continuing of a legacy.