Campus Life
Welcome, LSU Law Students!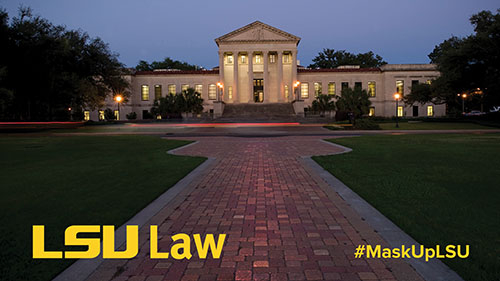 The COVID-19 pandemic has presented many new challenges, and with those challenges come new and different responsibilities. This Q&A provides you with the requirements, protocols, and advisories which we have put in place to help limit transmission of the virus.
This Q&A should also serve to remind you that much of what you read here may change in the coming weeks, as both the pandemic and our knowledge of the virus continue to evolve. We are working tirelessly to create an environment for a safe and rewarding educational experience for you, and we will continue to provide our LSU Law community with the most up-to-date information.
Please also refer to the LSU COVID-19 Roadmap website to learn more about what campus life will be like in 2023.
LSU Law Center COVID Reporting Form
---
Questions and Answers
What testing and vaccination policies are in place?
Detailed information regarding testing and vaccination policies can be found
here
. Note that students living in on-campus residence halls and apartments are subject to additional requirements,
detailed here
.
What do I do if I test positive for COVID-19?
LSU has published physical isolation and quarantine protocols,
available here
.
IF you test positive or are in close contact (fifteen minutes or more within six feet) with someone with COVID-19, or are primary caregiver for a child who tests positive or must isolate, you should not come to campus again until you have been in isolation or quarantine (as applicable) as directed in that protocol.
Rather, you should do two things.
First, you MUST fill out the
LSU Law Center form
to report your positive test or contact to Law Center administration.
AFTER completing the Law Center form, you should email Associate Dean Carroll, providing the details of the isolation or quarantine period. You should review the 2022-2023 attendance policy to be sure you have followed all steps necessary to receive attendance credit for classes missed while in isolation.
Second, if you test positive OR you are exposed to someone with COVID-19, you are required to notify LSU.
What will happen if there is a significant outbreak of COVID-19 at the Law Center?
Although LSU is implementing a broad range of health and safety measures to help mitigate the spread of COVID-19 within the campus community, it is impossible to guarantee that there will not be an increase in the infection rate. For that reason, we might at some point have to modify our current plans, whether for a significant outbreak or in the event that new federal, state, or local regulations require us to modify our plans. Barring a significant and widespread outbreak, vaccination, testing, isolation, and quarantine protocols that are being implemented to help mitigate the spread of the virus will be enacted as planned.
What additional steps are being taken to mitigate transmission of COVID-19 in the Law Center?
High capacity in-room HEPA filtration units are being added to each classroom. Many areas will be stocked with individual sanitizing wipes for students to use, and hand sanitizer will also be readily available. All faculty and staff will be engaging in the same daily self-screening measures as students, and they are subject to the same general public health measures as students.
Does the LSU Student Health Center provide services to Law Center students?
The Student Health Center is available to all full-time Law students. This is part of the student health fee you have paid.
Website: lsu.edu/shc
Service Hours: Monday through Friday, 8:00 a.m. to 4:15 p.m.
Medical Clinic Phone: 225-578-6716