Scholarship & Service
Professor Keith Hall is quoted by Energywire in an article about a new agreement between Louisiana, Houston-based Castex Energy Inc., and Denver-based Carbonvert Inc. to develop an offshore carbon capture and storage project in the Gulf of Mexico.
Professor Lisa Avalos, an expert on sexual assault cases, is quoted by Bloomberg Law in an article regarding three lawsuits filed against Wigdor LLP by Leon Black, the latest of which claims the law firm co-opted the MeToo movement by pursuing baseless rape claims for a nine-figure payoff. Black, the founder of alternative asset manager Apollo Global Management, is taking aim at the reputation the small New York firm has cultivated over the last two decades as a go-to boutique for alleged victims of sexual misconduct and discrimination.
Professor Nick Bryner visited the Commission on Environmental Cooperation (CEC) in Montreal, Canada, on Sept. 19, where he discussed the general work and submission process of the commission. The CEC is a trilateral organization set up by Canada, Mexico, and the United States under the NAFTA/USMCA treaties, and it serves as a vehicle for cooperation among the three countries on environmental issues, from biodiversity and species conservation to wildfire monitoring to pollution control.
Professor Nick Bryner is participating in a colloquium at Vermont Law and Graduate School in Royalton, Vermont on Sept. 22-23.
Professor Caprice Roberts will present as a panelist at the Second Annual Shades of Mass Conference, which is being held Sept. 21–23, in Miami, Florida. Roberts will be among the panel presenting on "The Historic Unjust Enrichment Case of Henrietta Lacks and Her Immortal Cells." See the full conference agenda.
In The Spotlight
Richard J. Dodson Maritime Art Collection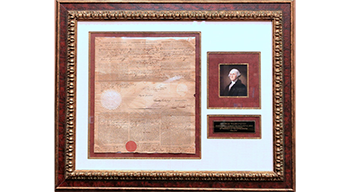 Discover LSU Law's exhibit of maritime artifacts and framed ships' passports/sea letters