Scholarship & Service
Professor Keith Hall testified before the Louisiana Legislature's House Natural Resources and Environmental Committee on May 2, 2023, on two bills relating to carbon capture and storage.
Professor Lisa Avalos appears in the film "Victim/Suspect," which is now available on Netflix. This new documentary raises awareness about cases where victims of sexual assault are improperly charged with false reporting after being disbelieved by police. Professor Avalos appears as a sex crimes expert who has worked with four of the survivors who are featured in the film.
Professor Heidi Howat Thompson will present What Does a [Cite] Say?: Make Your Cites Sing at the 2023 Joint Louisiana Judicial College/Louisiana State Bar Association Summer School in Sandestin on June 5 and 7. The presentation is part of the Sittin' on the "Doc" of the Bay, Watching the Writing Deadlines Come My Way: How to Effectively and Efficiently Draft Legal Analysis writing workshop for judges and attorneys.
Professor Bill Corbett placed for publication in the Buffalo Law Review his article The Case for Waivable Employee Rights: A Contrarian View. The article will be published in Volume 72 to be published in January 2024.
Professor Bill Corbett is speaking on a panel at the 2023 Joint Louisiana Judicial College and Louisiana State Bar Association Summer School in Destin. He is a panelist, speaking on June 5 on the topic of recent developments in Louisiana Civil Procedure with Justice Piper Griffin, Judge Tiffany Gautier Chase, and Judge Guy Holdridge. He will also speak on June 7 at the 32nd Annual Nuts & Bolts Judicial Seminar on "Professionalism in an Age of Incivility and Polarization."
Professor Christina Sautter's articles Corporate Governance Gaming: The Collective Power of Retail Investors, 22 NEV. L.J. 51 (2021), The Corporate Forum, 102 B.U. L. REV. 1861 (2022), and The Educated Retail Investor: A Response to "Regulating Democratized Investing," 83 OHIO ST. L.J. ONLINE 205 (2022) (all co-authored with Sergio Alberto Gramitto Ricci) were featured in Retail Corporate Governance, BUSINESS LAW PROF BLOG (May 23, 2023).
Professor Edward Richards presented a talk on The Environmental Costs of Holding Back the Ocean at the Eighth Annual SRP Sustainability Conference of American Legal Educators, Beus Center for Law & Society, Arizona State University Phoenix, Arizona.
In The Spotlight
Richard J. Dodson Maritime Art Collection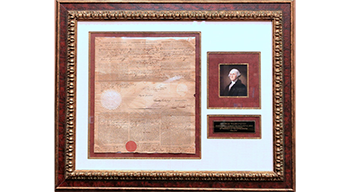 Discover LSU Law's exhibit of maritime artifacts and framed ships' passports/sea letters