Scholarship & Service
Professor Nick Bryner served as a panelist at the "Dialogue on the Latest Scientific and Legal Developments in Climate Change Law," which was held Abu Dhabi, United Arab Emirates, on Dec. 9. The event was organized by the UN Environmental Programme, International Association of Judges, World Commission on Environmental Law, International Council of Environmental Law, and the European Forum of Judges for the Environment. Bryner presented as part of a panel that focused on "Emerging Legal Doctrines at the Intersection Between Climate Law and International Human Rights."
Professor Lisa Avalos was quoted by The New York Times in a story about a lawsuit filed by an employee of Citigroup accusing its leadership of tolerating a culture of sexual harassment and the application of a 2022 federal law that nullified forced arbitration for such cases.
Dean Alena Allen has been appointed to the American Bar Association 2024 New Deans and Deans Workshops Planning Committee. The Committee will plan programming and annual workshops for new deans to be held in July 2024 at Seattle University School of Law.
Interim Library Director Natalie Palermo was presented with the Career Achievement Award at the 2023 LOUIS Users Conference on Oct. 19. LOUIS is a consortium of public and private college and university libraries in the state of Louisiana. The Career Achievement award recognizes distinguished librarians or staff members who have demonstrated continuous commitment and dedication to the library profession through accomplishments and service to the profession.
Professor Michael Malinowski's recently released book, "Personal Genome Medicine: The Legal and Regulatory Transformation of US Medicine," has been honored with the 2023 Best in Law award from American Book Fest. He joins the ranks of the American Book Fests' many renowned laureates representing a range of genres.
In The Spotlight
Richard J. Dodson Maritime Art Collection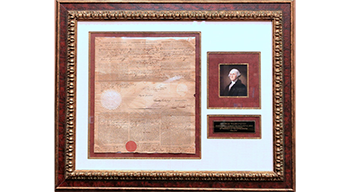 Discover LSU Law's exhibit of maritime artifacts and framed ships' passports/sea letters