Scholarship & Service
Professor Bill Corbett was interviewed by The Reveille for a story about the lawsuit filed by Madison Brooks' father against the parties he believes were involved in her death.
Professor Ken Levy was a featured guest on the "Without" podcast episode, "Drug Laws," that aired on Nov. 15, on which Levy discussed Louisiana's failed approach to fentanyl use and addiction. The "Without" podcast is hosted by international bestselling author and journalist Omar El Akkad. Levy's segment begins at 17:40 and can be heard on Apple Podcasts, Spotify, and Audible.
Professor Olivier Moréteau and Professor Mariano Vitetta of the Austral University School of Law, Buenos Aires, have published a book chapter titled "Translating the Civil Code of Louisiana into French and Spanish: A Jurilinguistic Exercise." It is included in Research Handbook on Jurilinguistics (Anne Wagner and Aleksandra Matulewska eds., Edward Elgar, 2023). Professor Vitetta, who earned her LLM at LSU Law in 2020 and formerly served as a research associate at the LSU Paul M. Hebert Law Center, has completed the Spanish translation of the Civil Code, which is partly published on the Louisiana Civil Code Online database and in the Journal of Civil Law Studies. The French translation is available online and in print.
Professor Tracy Norton will present "Look What You Made Me Do: Teaching in My Generative AI Era" at a one-day workshop at the University of Louisville Louis D. Brandeis School of Law on Dec. 2. She will discuss how she has embraced generative AI to enhance her teaching methods and why she decided to incorporate AI in the classroom.
Professor Keith Hall was elected Chair of the Task Force on Local Impacts of Carbon Capture and Sequestration. Created by the Louisiana Legislature during the 2023 regular session, the task force is charged with gathering input from various stakeholders—including landowners and other citizens, industry, academia, and state and local governments—and submitting a report on the local impacts of CCS. The task force plans to meet multiple times in the next few weeks and to produce a report by February.
In The Spotlight
Richard J. Dodson Maritime Art Collection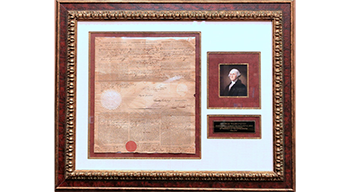 Discover LSU Law's exhibit of maritime artifacts and framed ships' passports/sea letters