Scholarship & Service
Professor Christina Sautter's co-authored article, "The Educated Retail Investor: A Response to 'Regulating Democratized Investing'" (with Professor Sergio Alberto Gramitto Ricci), has been published in Volume 83 of the Ohio St. L.J. Online. The article is an invited response to University of California College of the Law, San Francisco Professor Abe Cable's article on regulating retail investors investing through commission-free trading apps like Robinhood.
Professor Keith Hall was a featured guest on the "Louisiana Considered" radio show, on which he spoke about the potential that federal and state laws have to transform the energy sector in Louisiana from one that is heavily reliant on fossil fuels to one that leans toward renewables and carbon capture.
Assistant Dean of Experiential Education and Professor Robert Lancaster is quoted by The Reveille in an article about the work LSU Law students do with Louisiana Parole Project as part of the Law Center's Parole and Re-entry Clinic.
Professor Caprice Roberts will present a working draft of her article, "Judicial Fidelity," at the Loyola University New Orleans College of Law on March 10 at "The Article III Judiciary: Democracy's Last Line of Defense" Law Review Symposium.
Professor Keith Hall attended the Institute for Energy Law's 75th Annual Energy Law Conference in Houston on Feb. 16-17 with two LSU Law LLM students.
In The Spotlight
Richard J. Dodson Maritime Art Collection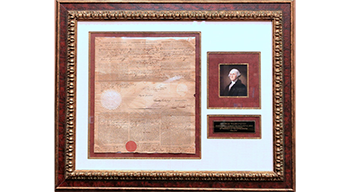 Discover LSU Law's exhibit of maritime artifacts and framed ships' passports/sea letters