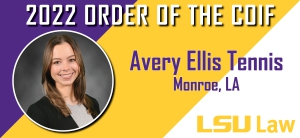 Twenty graduates in the LSU Law Class of 2022 have been selected for induction into The Order of the Coif, the highest honor a law student can receive.
Membership into the honorary law fraternity is strictly limited to the top 10% of each graduating class of law students. Of the more than 200 American Bar Association accredited law schools in the country, LSU Law is one of just 86 with a chapter in The Order of the Coif.
"We are extremely proud of each and every one of the 200 graduates in the LSU Law Class of 2022 because all of them worked incredibly hard and made great sacrifices to earn a law degree, which is the most difficult postgraduate degree that one can attain," said LSU Law Interim Dean Lee Ann Wheelis Lockridge. "Our graduates who have earned membership into The Order of the Coif in addition to their law degrees are most deserving of special recognition. This high honor reflects their unparalleled commitment to academic excellence, and we take immense pride in honoring their great achievement."
The LSU Law chapter of The Order of the Coif was established in 1942, with a purpose of stimulating scholarly work of the highest order and fostering a high standard of professional conduct. Outside of ordinary membership for law school graduates, honorary membership into The Order of the Coif may be granted in special cases to lawyers, judges, and teachers who have attained high distinction for their scholarly or professional accomplishments.
Avery Ellis Tennis | Monroe, Louisiana
What are your immediate career plans?
Starting this September, I will be clerking for the Honorable Judge John W. deGravelles at the U.S. District Court for the Middle District of Louisiana.
What are your long-term career aspirations?
I feel drawn to litigation and thus hope to find myself at a small or mid-sized firm where I am able to gain plenty of experience as a litigator With respect to subject matter, I aim to pursue a career in energy law.
Please tell us about the organizations and activities you participated in at LSU Law, including any awards or honors you received.
During my time at LSU Law, I had the great honor of being recognized as a Paul M. Hebert Scholar for the Fall 2021 and Spring 2022 semesters and as a Dean's Scholar for the Fall 2019, Fall 2020, and Spring 2021 semesters. In addition, I received the CALI Award in my upper-level writing seminar and obtained a Graduate Certificate in Energy Law and Policy as well as a Graduate Diploma in Comparative Law. I also participated in intraschool moot court competitions such as Tullis and Dean's Cup. Finally, I was a proud member of the Board of Advocates Honor Organization, the Environmental Law Society, and the Sports, Entertainment, and Media Law Society.
Please tell us about any LSU Law faculty, classes, or other experiences that were particularly impactful on your legal education.
Working for the East Baton Rouge Office of the Public Defender during my second year of law school made a notable impact on my legal education. Not only did this experience deepen my knowledge of the criminal justice system, but it shed light on the importance of public defenders within that system. In particular, working for the public defenders reinforced how paramount the constitutional right to counsel is for marginalized communities. Because of this experience, I have a new perspective and appreciation for civil liberties.
What are your fondest memories from your time at LSU Law? My fondest memory from LSU Law, surprisingly, is from my first semester.
We 1Ls had just finished our last final exam. Overcome with a mix of joy and exhaustion, we all made our way to the front steps to pop champagne and celebrate our accomplishment. Looking back, this event sticks out to me in a positive way; we had no clue what we were really getting ourselves into that first semester, and the tradition of toasting on the law school steps served as a way for us to acknowledge our hard work and celebrate that feat together.
What advice would you give to students entering law school who aspire to become an Order of the Coif member when they graduate?
To students aspiring to become an Order of the Coif member, my advice is twofold. First, figure out what works for you in terms of studying and stick with it. Second, take time to congratulate yourself for your hard work so as to avoid burnout.