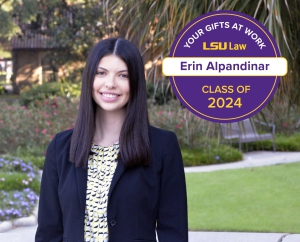 For rising third-year LSU Law student Erin Alpandinar, winning the Spring 2023 Ira S. Flory Mock Trial Competition was a high-water mark of her law school career and it brought her one step closer to achieving her dream of becoming a litigator.
"I worked so incredibly hard throughout the whole competition, and I genuinely had so much fun. It was such a great feeling to take home the win with my amazing teammate, Robin Capps," she said. "Winning the Spring Flory Mock Trial Competition is one of my greatest LSU Law memories so far."
Through her first two years at LSU Law, Alpandinar has amassed an impressive resume. Her Flory Trial victory earned her membership into the Board of Advocates, the Law Center's student honor organization dedicated to the promotion and development of oral and written persuasive advocacy skills. She tutored first-year students in Legal Traditions and Constitutional Law this past year, and in March she was selected to be editor-in-chief of the LSU Journal of Energy Law and Resources.
Alpandinar has also picked up considerable work experience working during her time at LSU Law. She has completed separate internships Baton Rouge attorneys B. Kyle Kershaw ('94) and J. Danielle Harris Munro ('95), as well as 19th Judicial District Court Judge Don Johnson ('82), and served as a law clerk for three Baton Rouge law firms: McGlinchey Stafford; Jones Walker; and Taylor Porter, Brooks & Phillips.
With strong reading, writing, and comprehension skills, and a growing interest in politics and the criminal justice system, Alpandinar decided in high school to pursue a career in the legal field. She spent her first semester of college at George Washington University in Washington, D.C., before transferring to LSU, where she graduated with a double major in political science and sociology. Knowing that she wanted to practice in Louisiana after earning her law degree made choosing the Paul M. Hebert Law Center an easy choice, Alpandinar said.
"I'm not quite sure what I want my career to look like yet, but I know that I want practice in Louisiana, and I know that I want to litigate," she said. "LSU Law exposed me to areas of the law I never thought I would enjoy or want to practice that I ended up liking. My continued interest and excitement about the law has affirmed that I chose the right career path."
Alpandinar has earned both Paul M. Hebert Scholar and Dean's Scholar honors and multiple CALI Awards for Excellence for her academic achievement. In recognition of her achievement, she has been awarded a Kean Miller Annual Scholarship.
"It means the world to know that current attorneys chose me as the recipient of this award," Alpandinar said. "I am so thankful and grateful that I was chosen for this scholarship, and It feels like a reward for all my hard work in law school."
Support LSU Law scholarships
To attract and retain a talented student body at LSU Law, we must offer meaningful and nationally competitive scholarships. Every major law school in the country attracts top students through scholarships, and the LSU Law Center is a part of this very competitive environment.
Resident tuition has increased to over $23,000 for first-year students. With fees, room and board, personal costs and transportation, the cost of a legal education may exceed $35,000 per year.
The Law Center works diligently to attract outstanding students, and private scholarship funds are critical to our efforts to provide financial assistance to deserving students.
Learn more about how you can support scholarships at LSU Law.