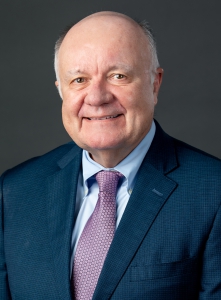 LSU Law Professor and LSU President Emeritus Thomas C. Galligan Jr. will deliver the commencement address at the LSU Law Class of 2023 Commencement, which will take place at 12:30 p.m. on Saturday, May 20, in the Pete Maravich Assembly Center on the LSU campus.
Galligan's teaching and scholarship focuses on torts, admiralty, and constitutional law. He holds the Dodson and Hooks Endowed Chair in Maritime Law, the James Huntington and Patricia Kleinpeter Odom Professorship of Law, and the Edwin W. Edwards Distinguished Professorship at the Paul M. Hebert Law Center.
From Jan. 1, 2020, to July 5, 2021, Galligan served as interim president, and then president, of LSU's eight campuses across Louisiana and the university's flagship campus in Baton Rouge. In recognition of his exemplary service, which lasted throughout the worst of the COVID-19 pandemic, the LSU Board of Supervisors formally removed the interim from his title and he now hold the rank of president emeritus.
Galligan served as dean of the LSU Paul M. Hebert Law Center from July 1, 2016, until he began his service as LSU president at the outset of 2020. After handing the reins to LSU President William F. Tate IV, Galligan returned to LSU Law as a professor. From 2006 to 2016, he served as president of Colby-Sawyer College, a private, liberal arts-based college in New London, New Hampshire, and he also held a faculty position and regularly taught at the college.
Prior to leading Colby-Sawyer, Galligan served as dean of the University of Tennessee College of Law from 1998 to 2006. He started his academic career at LSU Law in 1986 and was elected Professor of the Year by students at the Paul M. Hebert Law Center in six of the 12 years of his first tenure at LSU Law. From 1995 to 1998, he also served as the Executive Director of the Louisiana Judicial College.
Galligan is a member of the Council of the American Bar Association (ABA) Section on Legal Education and Admissions to the Bar. Previously, he served as a member (2007-2015) and as chair (2013-2015) of the ABA Accreditation Committee. He has been a member of and chaired several site evaluation teams for the ABA and the New England Association of Schools and Colleges.
Galligan is a frequent continuing legal education speaker on his areas of expertise, having delivered more than 250 speeches and presentations to judges, lawyers, and others on subjects including torts, admiralty, complex litigation, professionalism, and more. In the aftermath of the Deepwater Horizon disaster, he testified three times before congressional committees considering amendments to the Death on the High Seas Act and other applicable maritime statutes. His scholarship has been cited by numerous courts, including the Supreme Court of the United States, the United States Court of Appeals for the Fifth Circuit, various U.S. District Courts, the Louisiana Supreme Court, and various State Appellate Courts. He holds an A.B. in Political Science from Stanford University, a J.D. from Seattle University School of Law, where he graduated summa cum laude and first in his class, and an LL.M. from the Columbia University Law School. Galligan resides in Baton Rouge with his wife Susan.
Visit law.lsu.edu/commencement for more information about the LSU Law Class of 2023 Commencement exercises.