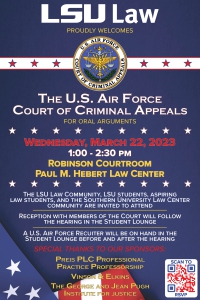 LSU Law students will have the unique opportunity to observe a hearing of the U.S. Air Force Court of Criminal Appeals on Wednesday, March 22, when the court visits the Paul M. Hebert Law Center as part of its public outreach program. Six LSU Law students were selected to submit amicus briefs in advance of the hearing, and two of them—3Ls Chad Thornton and Hannah Turner—will argue their briefs before the court.
The hearing will take place in the David Robinson Courtroom from 1 to 2:30 p.m., with a question-and-answer session to take place following adjournment. All rules of the court will be strictly observed. A U.S. Air Force recruiter will be on hand in the Student Lounge to answer questions before and after the hearing. A special reception with members of the Court will also be held in the Student Lounge following the hearing, sponsored by Vinson & Elkins. Other event sponsors are the Geroge and Jean Pugh Institute for Justice and the Preis PLC Professional Practice Professorship.
In addition to the LSU Law community, undergraduate LSU students and other prospective LSU Law students are invited to attend the hearing, as well as students and faculty from the Southern University Law Center. A direct feed of the hearings will also be shown in the Paul M. Hebert Law Center. Register to attend.
"This visit by the U.S. Air Force Court of Criminal Appeals is unparalleled for LSU Law and Louisiana," said LSU Law Professor Jeff Brooks, who also serves as Director of Field Placements and Moot Court/Trial Advocacy Programs at the Paul M. Hebert Law Center. "We are proud to have been selected as a host site and we are thrilled to offer this incredible opportunity to our LSU Law students and alumni, undergraduate students considering law as a career, and the students and our colleagues at Southern University Law Center."
The U.S. Air Force Court of Criminal Appeals has previously visited law schools at Georgetown, the University of Virginia, and the University of North Carolina, among others.
"This is really an invaluable experience for me," said Thornton, who is actively involved with internal and external Trial Advocacy Programs at LSU Law, and won the Fall 2021 Ira S. Flory Mock Trial Competition. "The real difference about this opportunity and the others I've had in competitions and clinics is the prestige. This is a real court with real things at stake. I'm going to be a litigator after graduation, so this is an incredible opportunity and I'm excited for the opportunity and the challenge."
"To have the opportunity to argue before this prestigious court as a law student—especially since it's my first time to do so before a real court—is a unique experience and I'm very grateful for the opportunity," said Turner, who is very active in internal and external Moot Court Advocacy at LSU Law, and has accepted an associate position with Moore Ingram Johnson & Steele in Marietta, Georgia, following her graduation this spring. "These kinds of experiences are very important as I prepare to start my career after graduation and continue to sharpen my critical thinking skills."
In addition to Thornton and Turner, the four other LSU Law students who were selected to submit amicus briefs prior to the hearing were John Arboleda, Angelle Boudreaux, Kimberly Cook, and Broxton Lance Harvey. LSU Law Advocacy Fellow Charles Watkins supervised the students' work as they prepared their briefs.
Charlton Meginley, a 2002 LSU Law graduate who retired in January a Colonel and Appellate Military Judge on the U.S. Air Force Court of Criminal Appeals, played a key role in bringing the Court to the Paul M. Hebert Law Center. He began working to bring the court to his alma mater prior to his retirement and said he's eager to return to the Law Center to observe the oral arguments as a spectator.
"Essentially, the court will be picked up from Washington, D.C. and moved to Baton Rouge for the day," said Meginley, who now serves as general counsel for the Louisiana Secretary of State. "Law students will have the opportunity to see the prestige and ceremony that comes with the legal process firsthand."
Located at Andrews Air Force Base in Prince George's County, Maryland, the Air Force Court of Criminal Appeals is an independent appellate judicial body authorized by Congress and established by the Judge Advocate General of the Air Force. It hears and decides appeals of United States Air Force court-martial convictions and appeals pendente lite. Its appellate judges are assigned to the Court by The Judge Advocate General, whom instructs court-martial convening authorities to take action in accordance with the Court's decisions.