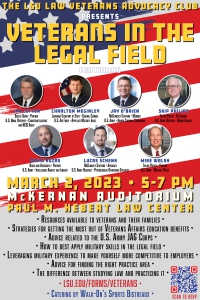 A panel of attorneys who have previously served or are currently serving in the U.S. military will discuss how to best make the transition from serving in the armed forces to attending law school at the Paul M. Hebert Law Center on Thursday, March 2.
Sponsored by the LSU Law Veteran Advocacy Club, the "Veterans in the Legal Field" event will take place in the McKernan Auditorium from 5 to 7 p.m. The event is free and open to the public, with refreshments and food from Walk-On's Sports Bistreaux to be served.
"Our target audience is veterans and the family members of vets who are thinking about or are currently enrolled in law school, but there will also be useful information for those who are considering serving in the military after earning an undergraduate or law degree," said VAC President and U.S. Army veteran Brock McKiness, a second-year LSU Law student.
RSVP to attend "Veterans in the Legal Field" at law.lsu.edu/forms/veterans. Topics that will be discussed include, but are not limited to:
Resources available to veterans and their families
Strategies for getting the most out of Veterans Affairs education benefits
Advice related to the U.S. Army JAG Corps
How to best apply military skills in the legal field
Leveraging military experience to make yourself more competitive to employers
Advice for finding the right practice area
The difference between studying law and practicing it
"We have planned for the event to be more like a discussion than a presentation," said McKiness. "After introductions and any short commentary by our panelists, we hope to open the floor to questions from attendees."
The panel of speakers, most of whom are LSU Law alumni (with graduation years noted), includes:
Jim Letten — Butler Snow, Partner / U.S. Naval Reserves, Counterintelligence and NCIS Agent
Charlton Meginley ('02) — Louisiana Secretary of State, General Counsel / U.S. Air Force, Appellate Military Judge
Jay O'Brien ('99) — McGlinchey Stafford, Member / U.S. Army, Armor Company Commander
Harry J. "Skip" Philips ('83) — Taylor Porter, Of Counsel / U.S. Army Reserves, Major General
David Rozas ('04) — Rozas and Associates, Founding Member and Partner / U.S. Army, Intelligence Analyst and Linguist
Lucas Schenk ('20) — McGlinchey Stafford, Associate / U.S. Army Reserves, Psychological Operations Specialist
Mike Walsh ('83) — Taylor Porter, Partner / U.S. Army, Military Police