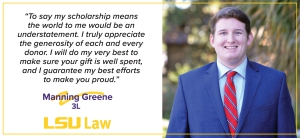 It wasn't dreams of Big Law that brought Manning Greene to LSU Law, but dreams of the Big Leagues.
"To be honest, I began law school with no aspirations of becoming a practicing attorney," he said. "I worked for the LSU Baseball team during my undergraduate years, and I foresaw myself pursuing a career in professional baseball with a dream of becoming general manager of a Major League Baseball team."
Greene enrolled at LSU Law to retain his job as an analytical manager for LSU Baseball, which required him to remain a student. As he looks forward to graduating next spring, Green said his years at LSU Law have opened his mind to the possibility of practicing law in the future—though he still has his heart set on the Big Leagues.
"I figured that if my dreams of working in baseball didn't pan out, I could always come back and rest on my law degree if I needed to," Greene said. "However, I have become much more amenable to the possibility that I could become a practicing attorney and not only excel at it, but also enjoy my day-to-day life as well."
After participating in LSU Law's Trial Advocacy program this semester, Greene said the process of assembling and litigating a case from start to finish gave him a good idea of what a career as a practicing attorney looks like, and much to his surprise, he enjoyed it.
Coming from a family of lawyers, Greene will be the first member of his family to graduate from LSU Law
in more than 20 years. Though three of his family members earned their degrees from Southern University Law Center, Greene said he knew he wanted to attend LSU Law because of his unmatched undergraduate experience at LSU. In addition, LSU Law's competitive aid package defrayed the majority of his first-year tuition.
Greene received the John L. Laborde Scholarship in Energy Law for the current academic year, and he said the scholarship has given him the ability to cut back on the time he spends at work and focus on his final year of legal studies.
"To say my scholarship means the world to me would be an understatement," Greene said. "I truly appreciate the generosity of each and every donor. I will do my very best to make sure your gift is well spent, and I guarantee my best efforts to make you proud."
Among his favorite law school experiences, Greene said exploring Europe with his classmates this past summer as part of the Summer Program in Lyon, France ranks right up at the top.
"School was great, and I got a few credits that will make my final semester a lot easier credit hours-wise," Greene said. "Our experiences on the weekend visiting various places around Europe and meeting new people in the class below me really made the trip worth it. It was an amazing experience and I highly recommend anyone who has a chance to do it."
Support LSU Law scholarships
To attract and retain a talented student body at LSU Law, we must offer meaningful and nationally competitive scholarships. Every major law school in the country attracts top students through scholarships, and the LSU Law Center is a part of this very competitive environment.
Resident tuition has increased to over $23,000 for first-year students. With fees, room and board, personal costs and transportation, the cost of a legal education may exceed $35,000 per year.
The Law Center works diligently to attract outstanding students, and private scholarship funds are critical to our efforts to provide financial assistance to deserving students.
Learn more about how you can support scholarships at LSU Law.