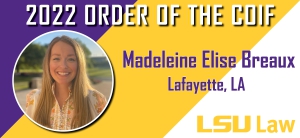 Twenty graduates in the LSU Law Class of 2022 have been selected for induction into The Order of the Coif, the highest honor a law student can receive.
Membership into the honorary law fraternity is strictly limited to the top 10% of each graduating class of law students. Of the more than 200 American Bar Association accredited law schools in the country, LSU Law is one of just 86 with a chapter in The Order of the Coif.
"We are extremely proud of each and every one of the 200 graduates in the LSU Law Class of 2022 because all of them worked incredibly hard and made great sacrifices to earn a law degree, which is the most difficult postgraduate degree that one can attain," said LSU Law Interim Dean Lee Ann Wheelis Lockridge. "Our graduates who have earned membership into The Order of the Coif in addition to their law degrees are most deserving of special recognition. This high honor reflects their unparalleled commitment to academic excellence, and we take immense pride in honoring their great achievement."
The LSU Law chapter of The Order of the Coif was established in 1942, with a purpose of stimulating scholarly work of the highest order and fostering a high standard of professional conduct. Outside of ordinary membership for law school graduates, honorary membership into The Order of the Coif may be granted in special cases to lawyers, judges, and teachers who have attained high distinction for their scholarly or professional accomplishments.
Madeleine Elise Breaux | Lafayette, Louisiana
What are your immediate career plans?
I will begin my law career as an associate at Kean Miller followed by a federal judicial clerkship.
What are your long-term career aspirations?
I'd like to grow and refine my skills as an attorney and give back to my community.
Please tell us about the organizations and activities you participated in at LSU Law, including any awards or honors you received.
Louisiana Law Review—Senior Editor
CALI Award—Security Devices
CALI Award—Administrative Law
CALI Award—Employment Law
CALI Award—Legal Research and Writing
Paul M. Hebert Scholar
Dean's Scholar
LSU Board of Supervisors' Scholarship
Please tell us about any LSU Law faculty, classes, or other experiences that were particularly impactful on your legal education.
I am grateful to all of the professors who shaped me into the legal thinker I am today, but I am especially thankful to:
Professor Bill Corbett: I seized every opportunity to take courses taught by Professor Corbett during my time at LSU and was fortunate to be chosen to work as his research assistant. Professor Corbett is a wonderful and challenging professor. His courses in Employment Law and Employment Discrimination Law sparked an interest in those fields for me. Additionally, Professor Corbett served as my law review advisor; his advice and edits were incredibly helpful. I am grateful for the opportunity I had to learn from and work for Professor Corbett.
Professor Clare Ryan: Professor Ryan taught me both Family Law and Matrimonial Regimes. From her courses and thoughtful discussions, I gained both practical knowledge about Family Law and an understanding and appreciation for its essentiality. Professor Ryan emphasized the positive impact lawyers can have on families and the community and the important responsibility to live up to that potential impact while practicing.
What are your fondest memories from your time at LSU Law?
One of my fondest memories from my time at LSU Law would have to be the return of Hats 'n Canes. This annual tradition fell to the wayside due to COVID-19 restrictions but reemerged during my 3L year. To participate in a tradition with such rich history made me feel grateful for LSU Law and connected to all its former grads. (As an added bonus, LSU beat Florida that same day—a great day to be a Tiger!)
What advice would you give to students entering law school who aspire to become an Order of the Coif member when they graduate?
Law school is notorious for its competitive atmosphere. You are ultimately forced to be compared to your classmates due to the comparative ranking system for grades. My advice would be to set goals for yourself, but avoid comparison as much as you can. Ultimately, do law school "your way." Find study habits and practices that work for you. Take study breaks to walk the lakes or go to Trader Joe's. Do your best in your schoolwork but also do other things that fulfill you outside of school hours.