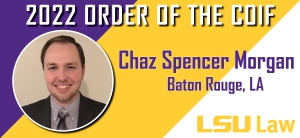 Twenty graduates in the LSU Law Class of 2022 have been selected for induction into The Order of the Coif, the highest honor a law student can receive.
Membership into the honorary law fraternity is strictly limited to the top 10% of each graduating class of law students. Of the more than 200 American Bar Association accredited law schools in the country, LSU Law is one of just 86 with a chapter in The Order of the Coif.
"We are extremely proud of each and every one of the 200 graduates in the LSU Law Class of 2022 because all of them worked incredibly hard and made great sacrifices to earn a law degree, which is the most difficult postgraduate degree that one can attain," said LSU Law Interim Dean Lee Ann Wheelis Lockridge. "Our graduates who have earned membership into The Order of the Coif in addition to their law degrees are most deserving of special recognition. This high honor reflects their unparalleled commitment to academic excellence, and we take immense pride in honoring their great achievement."
The LSU Law chapter of The Order of the Coif was established in 1942, with a purpose of stimulating scholarly work of the highest order and fostering a high standard of professional conduct. Outside of ordinary membership for law school graduates, honorary membership into The Order of the Coif may be granted in special cases to lawyers, judges, and teachers who have attained high distinction for their scholarly or professional accomplishments.
Chaz Spencer Morgan | Baton Rouge, Louisiana
What are your immediate career plans?
I plan to be an Assistant District Attorney at a district attorney's office in the Baton Rouge area.
Please tell us about the organizations and activities you participated in at LSU Law, including any awards or honors you received.
I served as president of the Christian Legal Society and 3L class representative for the Federalist Society, and I was a member of Advocates for Life, LSU Law's pro-life organization. I also am a published member of the Louisiana Law Review Vol. 82 and served law review as a senior associate. Additionally, I earned seven CALI awards.
What are your fondest memories from your time at LSU Law?
My best memories from LSU Law are eating at Chipotle between classes with Andrew Chenevert and Colin Daigle, and talking with Taylor and Connor Krone after our Successions class.
What advice would you give to students entering law school who aspire to become an Order of the Coif member when they graduate?
I recommend utilizing the study method that best suits each individual rather than trying to adapt to methods that other students use but do not work as well for you personally. I also recommend studying consistently throughout the semester rather than having to cram immense amounts of information in for the first time during the buildup to finals.