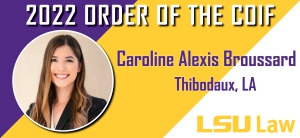 Twenty graduates in the LSU Law Class of 2022 have been selected for induction into The Order of the Coif, the highest honor a law student can receive.
Membership into the honorary law fraternity is strictly limited to the top 10% of each graduating class of law students. Of the more than 200 American Bar Association accredited law schools in the country, LSU Law is one of just 86 with a chapter in The Order of the Coif.
"We are extremely proud of each and every one of the 200 graduates in the LSU Law Class of 2022 because all of them worked incredibly hard and made great sacrifices to earn a law degree, which is the most difficult postgraduate degree that one can attain," said LSU Law Interim Dean Lee Ann Wheelis Lockridge. "Our graduates who have earned membership into The Order of the Coif in addition to their law degrees are most deserving of special recognition. This high honor reflects their unparalleled commitment to academic excellence, and we take immense pride in honoring their great achievement."
The LSU Law chapter of The Order of the Coif was established in 1942, with a purpose of stimulating scholarly work of the highest order and fostering a high standard of professional conduct. Outside of ordinary membership for law school graduates, honorary membership into The Order of the Coif may be granted in special cases to lawyers, judges, and teachers who have attained high distinction for their scholarly or professional accomplishments.
Caroline Alexis Broussard | Thibodaux, Louisiana
What are your immediate career plans?
I will be starting as an associate at Phelps Dunbar LLP in Baton Rouge in September.
What are your long-term career aspirations?
I hope to continue practicing in Louisiana and one day be elected to partner at my firm.
Please tell us about the organizations and activities you participated in at LSU Law, including any awards or honors you received.
PILS member
Lexis Student Representative
Paul M. Hebert Scholar
Dean's Scholar
What are your fondest memories from your time at LSU Law?
An event I will always remember is the 2022 Barrister's Bowl. Due to COVID-19, we only experienced the Barrister's Bowl football game one time, but cheering on the teams with friends to raise money for STAR was a blast, and so rewarding after seeing all everyone's effort come to fruition.
What advice would you give to students entering law school who aspire to become an Order of the Coif member when they graduate?
Comparison is the thief of joy. It is so easy to get overwhelmed during your first year of law school by constantly comparing yourself to others and wondering if you are doing enough. Focus your energy on bettering yourself and figuring out what study methods work for you. You were admitted into the law school because you are competent and capable of succeeding, and you will do great things!