Legal writing and creative writing are often on opposite ends of the spectrum when it comes to style and substance, and LSU Law alumnus Jim Lambert ('76) believes they even require using different parts of the brain.
"Law is very pragmatic while creative writing is not constrained by the facts," said Lambert. "It's a whole different process that uses a completely different part of the brain."
Lambert speaks from firsthand experience. After 40 years of practicing trial law, he retired in 2019 and began writing short stories in earnest. Lambert said his turn to creative writing was unexpected, considering his focus prior to retirement was on his law practice in Lafayette and volunteer work with Kairos Prison Ministry group.
And yet, just a year after retiring, Lambert published his first work of fiction, "Sub Rosa and Other Stories." Since then, his collection of short stories has garnered many positive reviews, perhaps most notably from respected literary agency Kirkus Reviews, which called his debut "a moving, skillfully written set of tales."
Set largely in Louisiana, "Sub Rosa and Other Stories" contains tales ranging from an investigation into the murder of Black troops in the Jim Crow South to a story called "Lee and Me," which centers around a young Lee Harvey Oswald and his childhood best friend.
Lambert said his extensive experience as a trial lawyer and his work with the Kairos Prison Ministry inspired some of the stories in his book and aided in his writing process.
"Law is a way of storytelling and listening to stories, so I think law prepared me to be a better story-teller and to listen to others' stories," he said. "There was also so much history that I was not taught as a history student, and it kind of changed my perspective on things and motivated me to learn about hidden history and violence, so I ended up writing stories with that as a take-off or emotional anchor, you could say."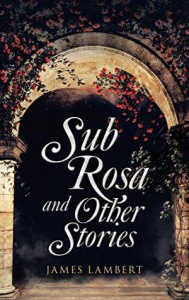 Kairos Prison Ministry is a global, non-profit Christian organization that holds retreats and visits with incarcerated people and their family members to offer support and guidance. Lambert has been active with the ministry since 2001, when he joined the Lafayette chapter and began visiting inmates at Angola prison regularly.
"It's just amazing," he said of his involvement with the ministry. "It's basically a bunch of guys sitting around a table talking about the things we heard in the retreat and about their lives. We try to listen and show unconditional love. You do not leave with a heavy heart. In fact, you leave on cloud nine, and I've seen some unbelievable experiences there."
Lambert said he first visited Angola during his first year at LSU Law in 1973, where the late Professor George Pugh encouraged his criminal law class to visit the state penitentiary to gain some first-hand experience with those incarcerated and the correctional system.
"If you wanted to take a tour of Angola, you simply showed up on Saturday morning and got on a school bus," he recalled. "I even brought my girlfriend one time. Times were very different! Now, the prison is maximum security, and our prison ministry group are some of the only visitors they let in."
Although he is not planning on coming out with a new book anytime soon, Lambert said that his experience has shown him that "anything is a possibility." In the meantime, he is enjoying his retirement in Lafayette with his wife, where he plans to continue writing and serving with the Kairos Prison Ministry.