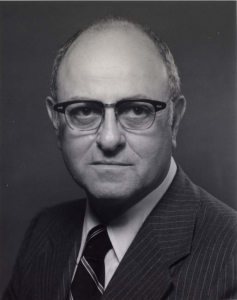 The LSU Paul M. Hebert Law Center mourns the passing of Professor Emeritus Robert A. Pascal, who died Jan. 19, at the age of 102.
Pascal graduated from the LSU Law Center in 1940 as the school's first student to receive the Master of Civil Law degree. He later earned his LL.M. from the University of Michigan in 1942. After completing his military service with the U.S. Coast Guard, Pascal joined the LSU Law faculty as a full-time assistant professor in 1945.
While on leaves of absence from LSU, Pascal taught at the University of Chicago (spring 1951) and the University of Rome (1951 – 1952 and 1963 – 1964). Pascal retired on June 2, 1980 and was named an LSU Law Professor Emeritus.
Throughout his career, Pascal taught a wide range of subjects, but his favorites have been interstate and international legislative jurisdiction, philosophy of law, introduction to civil and common law, and private (or family) trusts.
His teaching philosophies can be found in almost any piece of his scholarship.  Pascal once noted, "We are a community of people under God, and because we are a community, each of us must cooperate with everyone else in life."  His earlier Tucker Lecture of 1998, "Of the Civil Code and Us," and his more recent "A Summary Reflection on Legal Education," perfectly reflected his philosophies of life, the law and teaching.
As a professor, he specialized in civil law courses, jurisprudence, and conflict of laws. Pascal's practice of calling on students seated in the front row on the first day of class is still remembered by LSU Law alumni. Stories of this routine became so widespread and feared that Pascal was forced to alter his interrogation habits when students sat in the back of the classroom, leaving the front row vacant.
As a researcher, he assisted with the publication of the compiled civil codes of Louisiana prepared by the Law Institute. Pascal was a corresponding member of the International Institute for the Unification of Private Law and a consultant on trust law reform for the Louisiana State Law Institute.
His expertise extended into the fields of Institutions of the Law, Family Law, Matrimonial Regimes, Anglo-American Real Property, Conflicts of Law, and Philosophy of Law. His positions as defender of the civil law of Louisiana, as teacher and scholar, are legendary. His scholarship and contributions to the law were recognized when in 1995, Loyola University New Orleans conferred Pascal with the degree of Doctor of Laws, honoris causa.
In 2011, Pascal was honored with the Distinguished Professor award by the Louisiana Bar Foundation.
Services will be held Thursday, Jan. 25 with visitation at St. Aloysius Church in Baton Rouge beginning at 10 a.m., and a Funeral Mass beginning at 11 a.m. Burial will follow at 2 p.m. in St. Louis Cemetery No. 3 in New Orleans.