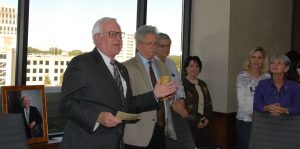 LSU Law's national moot court team was officially named the Tom Fore Phillips National Moot Court Team during a ceremony Oct. 21 at the Taylor Porter law offices in downtown Baton Rouge. The naming celebrates Phillips — LSU Law graduate of the class of 1952, veteran of the national moot court team and former Taylor Porter managing partner — who passed away in 2011.
Phillips' friends and family donated more than $100,000 in his memory to establish the endowment to support the moot court team. The gift will generate annual funds to help cover the costs of out-of-state competitions and travel expenses.
Taylor Porter Managing Partner Skip Philips and Tom's son, Louis Phillips, each received a commemorative plaque after the ceremony, which was attended by members of Phillips' family — including wife Billie Claire — friends, legal peers, LSU Law Dean Galligan and members of the 2016-17 LSU national moot court team.  
Phillips' dedication to the LSU Advocacy Program began his senior year of law school when he and his teammates won the Law Center's prestigious moot court competition. Throughout his 50-year career at Taylor Porter, Phillips mentored many young lawyers and law students, both in practice and through his service as a volunteer judge in the LSU Advocacy Program.
LSU Law has more than 25 moot court teams, through which students travel to competitions that simulate court proceedings, including written and oral components.
Members of the Tom Fore Phillips National Moot Court Team compete with their classmates to be selected for the team, and then they travel to compete against other top law schools in the country. The 2016-2017 Tom Fore Phillips National Moot Court team is coached by John Devlin, the William Hawk Daniels and Robert and Pamela Martin Professor. This year, team members include Ronald Coleman, Chris Jones and Bret Sparks. 
The LSU team is working toward the sixth annual National Moot Court Competition to be held in New York on Jan. 30 – Feb. 2, 2017.