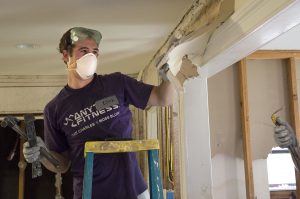 About 75 LSU Law students traveled to six areas around Baton Rouge to lend a hand during the Public Interest Law Society's annual Fall Day of Service on Saturday.
Starting at 7:30 a.m., students, faculty and staff donated their time with Habitat for Humanity, St. Vincent DePaul, BREC's Farr Park, and Cat Haven. Students and staff working with Habitat for Humanity tore down drywall, removed flooring and sprayed mold prevention in a house destroyed by recent flooding in the Baton Rouge area.
Other duties for LSU Law students included sorting and organizing clothing donations at three area St. Vincent DePaul locations and warehouse, cleaning cat rooms and supplies and giving some feline attention at Cat Haven, and removing rust and repainting fencing at BREC's Farr Park.
PILS is a student run organization that strives to foster student interest and action in the public interest community. Its mission is to provide like-minded students an opportunity to gain hands-on legal experience through exposure to areas of the law that aid the public.