Back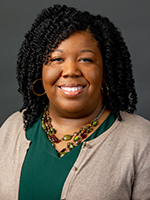 Contact Information
Ryan S. Waits
Assistant Registrar
Biography
Ryan S. Waits is the Assistant Registrar of the LSU Paul M. Hebert Law Center. She joined the LSU Law staff in 2019 as a member of the admissions team.
Waits brings over a decade of enrollment and records management experience to the Law Center. In the Office of Student Records, she serves as a resource for enrollment guidance, course selection advice, and academic policies and procedures. She is also committed to fostering a positive and enriching educational environment for all LSU Law students.
Beyond her work at the Law Center, Waits is a member of various organizations such as the LSU Black Faculty and Staff Caucus, the American Association of Collegiate Registrars and Admissions Officers, and the National Network of Law School Officers.  She is also a proud member of Delta Sigma Theta Sorority, Inc.  Within these organizations she contributes to various committees and caucuses, showing her dedication to community development and the advancement of her field.
Waits is an alumna of Southern University and holds both a bachelor's and master's degree in mass communications. She is a Baton Rouge native and lifelong Tiger fan.