Back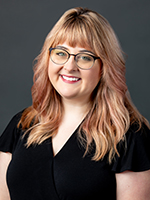 Contact Information
Blair Boles
Assistant Director of Admissions
Biography
Blair R. Boles is the Assistant Director of Admissions for the LSU Paul M. Hebert Law Center. She first joined the LSU Law staff in March 2022 as the Admissions Coordinator and Recruiter before assuming her current position in July 2023.
Boles recruits prospective students and advises them on the admissions process, curriculum, and scholarships at LSU Law. Prior to her role in the admissions office, she practiced law for nearly four years. She is an accomplished professional and dedicated member of the LSU Paul M. Hebert Law Center community, having earned her Juris Doctor degree from the very institution she now serves.
Boles is also a published author and co-owner of an independent bookstore/wine bar in Lafayette, Louisiana. She co-owns the bookstore with four close friends, two of which were her former law school classmates.
She holds a bachelor's degree in political science from The University of Louisiana at Monroe and is a 2018 graduate of LSU Law. In her free time, she enjoys reading, baking, and spending time with her family and beloved dog Birdie.