Order of Barristers
The Order of Barristers is a national honorary organization whose purpose is the encouragement of oral advocacy and brief writing skills through effective law school oral advocacy programs. Students who have excelled in moot court, mock trial, brief writing, oral advocacy, and other advocacy programs throughout their time at the LSU Law Center are selected to join the Order. Over 100 law schools have chapters of the Order of Barristers.
Eligibility: The Law Center is allocated a limited number of Order of Barristers inductees each year; this number corresponds to the number of students who participate annually in our intramural and interscholastic advocacy competitions and advocacy-related coursework. Any member of the graduating class who has participated in at least one LSU Law Center Advocacy Programs competition (internal or external) of any type (moot court, mock trial, transactional, dispute resolution) at some point in their academic career is eligible to apply for induction. A student does *NOT* need to be a member of the Board of Advocates to be eligible for induction into the Order of Barristers.
Application Process: Graduating 3L students who wish to be considered for membership in the Order of Barristers must complete an online application form. (Applications for the Class of 2024 will open in April 2024.) This application is a holistic application that looks at a student's entire law school experience. No one factor/criterion is determinative, and students should provide as much information as they believe is relevant to their application as possible! After completing the application, applicants must then write a personal statement (the prompt for this personal statement can be found in the application) and submit their personal statement and a current resume via email to Prof. Jeff Brooks.
Selection to the Order of Barristers will be based on the following criteria:
Membership on external advocacy competition teams, participation in tryouts for external advocacy competition teams, and performance/success at such external competitions, and/or
Participation in and performance in internal/intramural advocacy competitions, and/or
Participation in and performance of the administration of the Law Center's advocacy programs, and/or
Participation and performance in any programs for the instruction of other law students in brief writing and/or oral advocacy skills, and/or
Performance record in the school's brief-writing and/or oral advocacy courses.
Applications are reviewed by a faculty panel, who will recommend the list of new members to the Law Center's dean for approval.
Students with questions about the LSU Law Center's chapter of the Order of Barristers should contact Prof. Jeff Brooks.
Prior Inductees of the LSU Law Center Chapter of the Order of Barristers:
Class of 2023: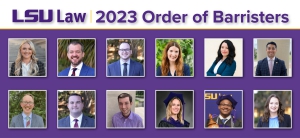 John Rodridgo Arboleda
Angelle Boudreaux
Hannah Elizabeth Cottrell
Luke Anthony Dupré
Cory A. Lewis
Olivia Day Maynard
Matthew Connor McCain
Raegan Minaldi
Chad Thornton
Hannah Lee Turner
Scott G. Wheat, Jr.
Ryan York
Class of 2022: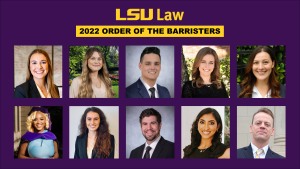 Allie Amedee
Valkyrie Eliana Buffa
Hunter DeVillier
Elizabeth Hanna Ferrier
Katie Leigh Fox
LaKenya Franklin-Robinson
Elizabeth Quinn Hamilton
Colton James Hilgenkamp
Sarah Alexandra Perkins
Michael Sewell
Class of 2021:
Jessica Dell Brewer
Hannah Michelle Dardar
Emiley Elizabeth Dillon
Kaylin Jolivette
Mary Katherine Loos
Kaitlyn Marie Mistretta
Morgan Taylor Sharp
Christopher Wagner
Stephanie Wartelle
Jordan Paul Zeringue
Class of 2020: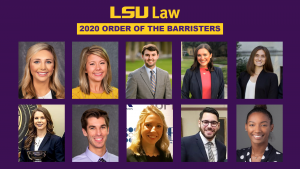 Taylor Brooke Ashworth
Katelyn E. Bayhi
Daniel Wayne Bosch, Jr.
Sarah Madaline Day
Indigo Kate Diekmann
Riley Elizabeth Frank
Michael Wayne Maldonado
Kelsey L. McGill
Juan J. Moreno
Briana C. Reid
Class of 2019:
Kaylyn Elizabeth Blosser
Ashley R. Delaune
Brooke Delaune
Justin A. DiCharia
Briana R. Falcon
Allena Wiggers McCain
Zachary S. Miller
Molly K. Reinhardt
Sohil Sharedalal
J. William VanDehei
Class of 2018: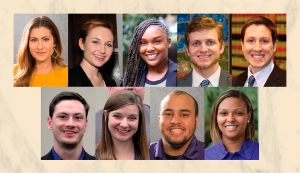 Erin Nicole Abrams
Kelsey Lynne Balzli
Brandi A. Barze
Jonathan A. Cobb
Ronald "Chaz" Coleman
Jessica Bankston Finley
Jacob McCain Irving
Ahmed Soussi
Jessica M. Thomas