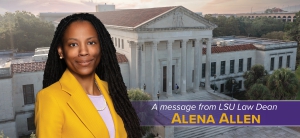 It is a great privilege to return to Louisiana and serve as dean of the Paul M. Hebert Law Center. LSU Law is world-renowned for its rigorous, bijural education that provides valuable experiential learning opportunities to its students. With the support of our alumni and faculty, the list of legal clinics, moot court competitions and programs at the Law Center continues to grow. Students have access to not just distinguished academic opportunities but also numerous support services within the Law Center to guide them as they complete their law degree.
While the physical building is in the heart of Baton Rouge, LSU Law can be found wherever you go. Our alumni serve as some of the top leaders of our state and nation, and LSU Law faculty are frequently tapped for their expertise on cutting-edge legal matters. As the state's flagship law school, we harness enormous potential to create meaningful, collaborative relationships that will provide valuable learning experiences for our students while addressing the ever-changing legal issues of our society.
I look forward to advancing the mission of the Law Center to train leaders in private practice, public service, and commerce; to value and respect the diversity of people and ideas; and to be capable of serving the cause of justice and advancing the common good, consistent with the rule of law in our city, state, nation and beyond.
All my best,
Alena Allen
Dean, LSU Law Center